Pripyat City Park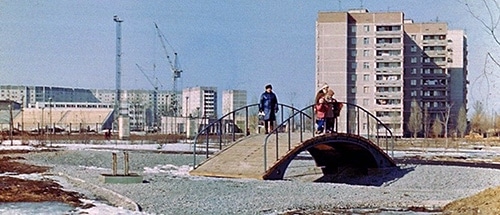 Like most cities, also Pripyat has a city park. It is mostly known for its amusement park with the ferris wheel and the bumper cars. The park is situated close to Lenin Square, behind the Palace of Culture and Hotel Polissya.

Pripyat was founded on 4 February 1970 to serve the nearby Chernobyl Nuclear Power Plant. It was officially proclaimed a city in 1979, and had grown towards a population of 49 thousand by the time it was evacuated.

The Pripyat amusement park was an upcoming event in the park. It had a ferris wheel, bumper cars, the Daisy carousel and a big swing. It should have been opened on May 1986, during the May Day celebrations. But the plans were interrupted when the Chernobyl disaster occurred a few kilometers away. The park was opened for a couple of hours on April 27 to keep the city people entertained before the announcement to evacuate the city was made.

Today, the park, and in particular the ferris wheel, are a famous touristic spot. Thanks to the bright yellow booths, clearly visible and recognizable, it has become a real symbol of the city and the entire exclusion zone.
The road to the Palace of Culture.

Swing at Pripyat amusement park.

Pripyat amusement park.

Bumper cars.

Rusty bumper car.

Pripyat amusement park.

Pripyat amusement park bumper cars.

Pripyat ferris wheel.

Carousel Daisy.

Ferris wheel.

Pripyat amusement park

The ferris wheel in the evening sun.

Pripyat Park.

Pripyat Park.

Pripyat Park with Soviet art.

Pripyat Park and Polissya hotel.

Pripyat city in 2014.