Pripyat Kindergarten № 7 Golden Key
Детский сад № 7 «Золотой Ключик» Припять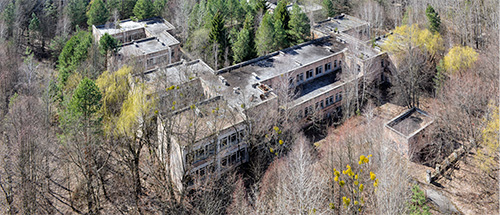 Kindergarten № 7 Golden Key, or Zolotoj Kluchik, is one of Pripyat's many abandoned kindergartens. Golden Key is situated close to the city center, but is hidden by many apartment buildings. It had been abandoned since the evacuation in 1986, inside the toys and children beds are rusting away.

Pripyat had a population of almost 50 thousand people in 1986. It housed many young families so the city has many schools and pre-schools. This kindergarten was designed by KievZNIIP architects, in conformity with a pilot project. As a result 'Kindergarten No. 6 Friendship' has the same architecture.

Vladimir Lenin called kindergartens 'sprouts of communism'. The Chernobyl region required many workers, including women. It was successfully solved by kindergartens and nurseries, which took babies from two months of age. Children were accustomed to a healthy lifestyle, and cultural development kept pace with the directives of the Communist Party. Later, pre-schools were an important part of the system of universal secondary education, since 1972 mandatory for every Soviet citizen.