Pripyat Secondary School № 3 
Припять Средняя школа № 3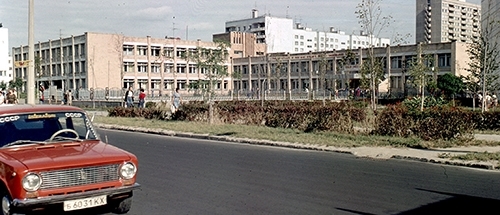 Before the Chernobyl disaster, five schools provided general secondary education in Pripyat. Pripyat Secondary School № 3 was the largest of the five.

This school is situated right next door to the indoor Swimming Pool Azure on Sportivnaya Street 14. The building, like many other schools was designed by KievSNIIEP. The design was also used for other schools in the Ukrainian Soviet Socialist Republic.

The hallways and classrooms of thee school are full of Soviet propaganda and educational posters. Also there are many gas masks scattered all over the floor. Hundreds lie across the floor. They were removed from their storage by looters in search of the tiny amounts of silver within their filters. The Russian made child-sized masks were designed to provide protection against nuclear, biological and chemical attacks.

April 26 1986 was just another school day for the Pripyat children. The teachers gave the students iodine and the windows were tightly closed, but classes were not cancelled. They were allowed to go home earlier, not knowing that the next day at noon, Pripyat was empty.
The school hidden between the trees.

Maths.

Languages.

Beautiful art on the wall.

Abandoned Secondary School No. 3.

The school has gasmasks everywhere.

The cash register in the cafeteria.

Hundreds of gasmasks.

Secondary School No. 3

Propaganda.

A poster of Lenin.

Abandoned classroom.

Mikhail Lomonosov, James Clerk Maxwell,Max Planck, Igor Kuchatov and Ernest Rutherford.

Secondary School No. 3

Isaac Newton.

Secondary School No. 3

A abandoned classroom.

Military educational posters.

A reminder of the city before the disaster.

Secondary School No. 3

The post-apocalyptic gym.

Pommel horse in the abandoned gym.

Fire prevention.

Artwork at school № 3.