Hotel Polissya Pripyat
Гостиница «Полесье» Припять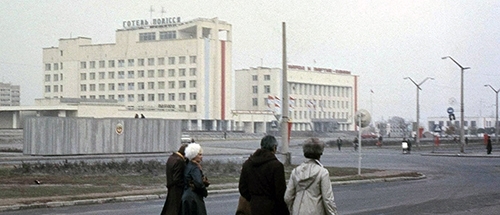 The Polissya hotel is situated in the city center of the abandoned city of Pripyat. It was built in mid-1970s to house delegations and guests visiting Pripyat and the Chernobyl Power Plant. From the roof, between the Готе́ль Полісся sign, you have a beautiful view over the city and surroundings.

The hotel is located on Lenin Square and is part of a complex of buildings, which includes the Palace of Culture Energetik, a department store and a restaurant. According to the original plans, on the top floor of the hotel there should have been a cafe with a summer terrace and an observation platform. But the cafe was never opened.

In the process of eliminating the consequences of the Chernobyl disaster, the hotel building was used by the liquidators. Officials could sleep here and there was a headquarter where the helicopters actions were coordinated. From the hotel roof, the Chernobyl Nuclear Power Plant was clearly visible. Helicopters that dumped sand, lead and boric acid into the burning reactor were directed by spotters located on the roof of the hotel. The sand was dug from the shores of the Yanovsky Zaton lake.

Rumor has it that in 1986 Soviet president Mikhail Gorbachev stayed at the hotel. He came to check the progress of the liquidation work.

After the end of the active phase of the liquidation, the building was abandoned. Now the hotel, like many other buildings in Pripyat, is in disrepair. There is not much left inside the building, only concrete walls and decay. Furniture was taken out and buried, burnt or turned over for scrap. The hotel appears in the video games STALKER and Call of Duty 4: Modern Warfare.
Lenin Square and Hotel Polissya.

Hotel Polissya from the back.

A restaurant with a live music stage.

The hotel lobby.

The restaurant.

Flight of stairs.

Готе́ль Полісся sign.

Hallway full of decay.

A hotel room with a view on Lenin Square.

Old documents.

Elevator hall.

A hotel room in Hotel Polissya.

Hotel Polissya.

Room 626.

Hotel room with a view over Pripyat Park.

The city office right behind the hotel.

Hotel Polissya sene from the Palace of Culture.